Welcome to the Fairy Tail: Next Generation Wikia
Edit
The following Wiki is created by KatieLove2Write for the Fairy Tail: Next Generation Fanfiction she wrote! Edit
You are welcome to browse and even edit the pages but only if your contributions are accurate to her story!!! Recently, many pages have been changed inaccurately and some pages have been added for characters who aren't even apart of this story. So please be respectful and add only valid information!
Photos and videos are a great way to add visuals to your wiki. Find videos about your topic by exploring Wikia's Video Library.
Who's your favorite Next Gen Character?
How did you find Fairy Tail?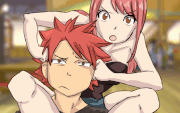 Ad blocker interference detected!
Wikia is a free-to-use site that makes money from advertising. We have a modified experience for viewers using ad blockers

Wikia is not accessible if you've made further modifications. Remove the custom ad blocker rule(s) and the page will load as expected.