Eleanor

Characteristics

Race

Half Demon

Gender

Female

Age

17

Hair Color

Black

Eye Color

Red

Professional Status

Affiliation
Occupation

Mercenary [[Mage}]]

Team

Team Deadly Sins

Magic

Magic
Weapons
Debut

Vol. IV - Chapter 1
Eleanor is a Half Demon apart of the Mercenary Guild Deadly Sins.
Personality
Edit
Eleanor, being the Sin of Sloth, is remarkably lazy. She is a free spirited and happy girl that is set on simply enjoying herself whenever she can. It is typical for her not to take her work seriously, and will even act in disruptive ways just for her own enjoyment. She, however, doesn't act disruptive intentionally as some may assume, she is simply the type who needs to keep themselves entertained.
Appearance
Edit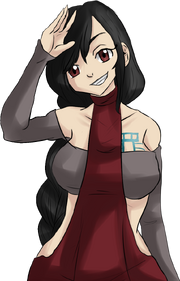 Eleanor typically dresses in revealing yet comfortable clothing consisting of nothing more than a red sports bra and a pair of shorts. She does wear a leather jacket to keep herself warm when she goes out, but at times she will even go barefoot simply because she doesn't like to wear shoes.